2017 NC Apprentice Contest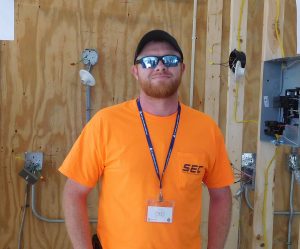 The 33rd Annual NC Electrical Apprentice Contest was held at the NC State Fair in Raleigh on October 18th.
Congratulations to Clinton Haithcock of Starr Electric for winning the contest.
Congratulations to David Carlton Jr. of Watson Electrical for placing 2nd.
We are proud that CECA Member Apprentices took 8 of the top 10 places.
Congratulations to Starr Electric for their Apprentice winning the Contest and for 3 other apprentices place in the top 10.
Congratulations also to Watson Electrical for having an Apprentice to place 2nd and for having 3 more Apprentices to place in the top 10.
Thank you to the many CECA Members who support the contest with their time, donations, materials and prizes for the contest.