ELECTRICAL LICENSE EXAM PREP CLASS – STARTS FEBRUARY 26TH 
TAUGHT BY RETIRED ELECTRICAL MECKLENBURG COUNTY INSPECTOR AND CONTINUING EDUCATION INSTRUCTOR, TIM WALKER.   CLASSES WILL BE HELD AT MAYER ELECTRIC SUPPLY AT 4201 TAGGART CREEK RD IN CHARLOTTE AT 6PM EACH NIGHT.  EDWIN ALRAFO WILL ASSIST WITH SPANISH TRANSLATION.  CONTACT TIM OR EDWIN FOR MORE INFORMATION. 
TIM WALKER 704-451-7785   EDWIN ALRAFO 704-719-0924. 
Electrical Continuing Education
Check Your NC Continuing Education Credits
For NC Licensees, effective July 1, 2008, one-half of continuing education requirements must be obtained by an in-person classroom or seminar setting. The other half of continuing education hours may be obtained by other means, such as online testing, mail order tests, etc. Licensees may carry forward continuing education credit hours for use in two future license periods. If you need 8 hours of continuing education per year, we suggest that you take 2 of our online or mail order tests (4 hours each) along with an 8 hour class for a total of 16 credit hours that will cover 2 years of continuing education requirements.
Visit this link to check your electrical continuing education credits with the state of North Carolina → 
Consider taking your Continuing Education with CECA to support YOUR industry.   – CECA is a Nonprofit  Trade Association that supports your Electrical Industry in many ways, offering continuing education, supporting Apprentice Events, having a member on the NC Electrical Licensing Board, having a lobbyist in Raleigh to monitor and influence what the legislature does that affects the electrical industry, the construction industry and small businesses and we are somewhere you can turn with questions and assistance in the electrical industry.  CECA has been supporting the Electrial Industry since 1946. 

Classroom Continuing Education
Tim Walker is a 30 year veteran of the North Carolina Charlotte-Mecklenburg County Inspection Department. He has worked in Charlottes' city high-rise section most of that time. Tim and his wife Mary enjoy traveling since his retirement. They are now taking care of their wonderful new grandson (Bradley) and have slowed down just a bit.
Tim was also a Naval Reservist for 25 years; a Huey air crewman, a crew chief, door gunner and SAR wet crewman (Retired). The squadron was HAL-4 the REDWOLFS.
Tim has taught classes at CPCC (Central Piedmont Community College) since 1981. He also taught classes for homeowners on how to wire their own homes. This class was also used for 'green' electrical helpers. He has also taught second and fourth-year apprenticeship classes and code seminars for electricians taking their state exams. He has been certified by North Carolina Department of Insurance to teach classes for Electrical Inspectors and by North Carolina State Electrical Board to instruct continuing education for state contractors. We are proud to have Tim as an instructor for our continuing education classes.
To Contact Tim with code questions or for information on Electrical Exam Prep Classes, see his webiste:                                                                             https://walkerei.com/    or call him at 704-451-7785
For questions about the continuing education class or continuing education tests, contact the CECA Office.  704-365-4016
Check out what people are saying about Tim and our continuing education class:
"He was eager to answer questions!"
"You can tell he loves what he does."
"Good Presentation!"
"I learned several ways to cut cost and avoid reinspection fees."
"This was my first class with Tim (Walker) – Thoroughly impressed."
"Tim was very knowledgeable, yet informal enough to make this a very informative and interesting class."
"Everything about this class was to notch, also food (lunch) was great."
"Tim's presentation is engaging, humorous and informative.  As always, the class is worth the time and money spent."
"CECA did a great job!  Good Classroom, seating, lunch was great.  Thanks for making it good."
"The food (lunch) was a pleasant surprise and was very good."
Code Course Tests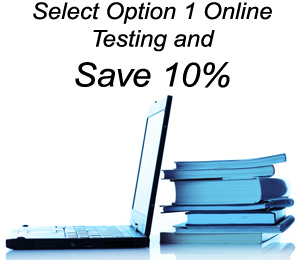 When you take Continuing Education through CECA, you are helping to support your Electrical Industry in NC
Running short of time? Save 10 days & 10% on CECA's convenient On-line Testing Site!
CECA has represented the interest of the electrical contractor in the Carolinas since 1946. When you take a test or class through CECA, you are supporting a non-profit 401(c)(6) association that supports the electrical industry in North Carolina. CECA does many things to further the electrical industry in NC, including having a lobbyist to watch and lobby on legislation in Raleigh that can and will affect you and your business. CECA also supports industry functions and apprentice functions to ensure that NC has a well-trained workforce for the future.
Please help us in our continued support of the Carolinas Electrical Industry by taking your continuing education with us.
Carolinas Electrical Contractors Association, Inc. is pleased to offer to you the Code Course for your continuous education requirements at the low price of $40.00 per four hours. (All NC tests are 50 multiple choice questions and Virginia tests are 25 multiple choice questions) CECA members pay only $30.00. Convenient online testing from your computer and pay and print version from your computer are both available.